Context
Wholesale markets act as a platform where electricity is traded (bought and sold) before being delivered to the end consumers (households, businesses, industries, etc.). Such trading is crucial for stability of the power system since it allows for balancing of demand and supply.
Market participants include:
Generators, who trade and sell electricity from their power plants to either trading companies/power-exchanges or directly to distribution companies
Traders (trading companies/power-exchanges), who trade and source electricity in order to sell to distribution companies or end consumers[1]
Load despatch centres, which maintains the equilibrium by meeting the supply with demand and vice versa. They do this by coordinating with various stakeholders in real time.
Distribution companies, buy power either directly from generators or from trading companies and sell it to customers
Figure 1: Indian power wholesale market structure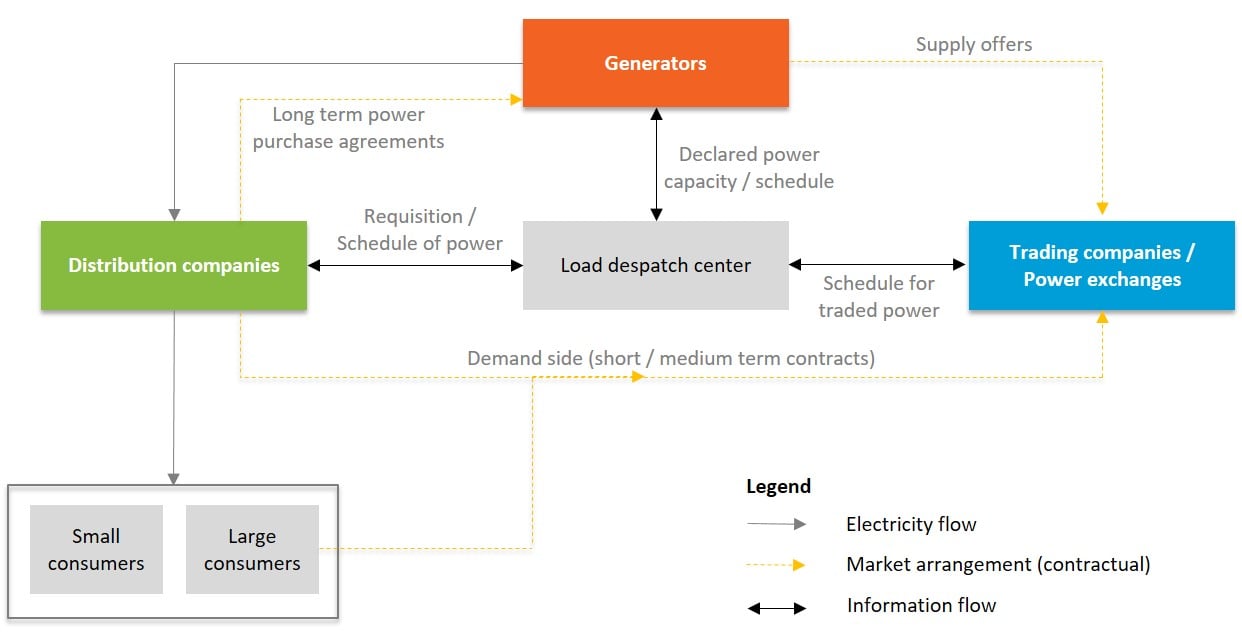 Types contracts in the wholesale market in India are:
Long term (>= 7 years) - A power generator may enter into MoU with a distribution company or state government to sell power for a fixed period of time as per the tariff determined by the regulator or discovered through competitive bidding.
Medium term (1-5 years): Generators may also sell power for a medium term based on competitive bidding through 'DEEP', a marketplace portal for distribution companies and generators.
Short term (0-1 years) – Short term contract between a buyer and a seller may be bilateral in nature and can be executed either through mutual negotiations or via power exchanges like India Energy Exchange (IEX) and Power Exchange India Limited (PXIL).
Figure 2: Types of contracts in Indian power wholesale market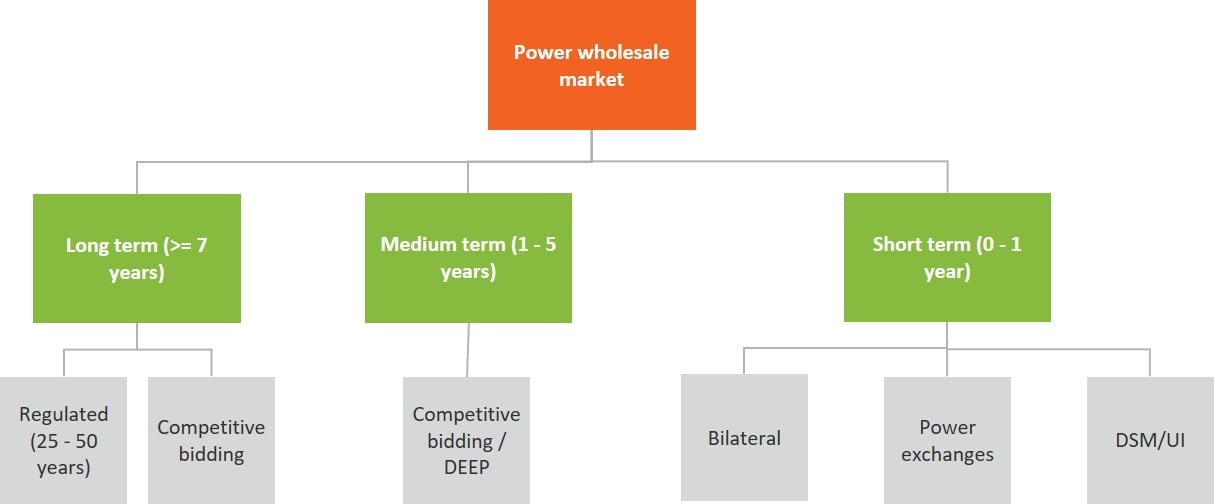 Relevance & Impact      
To ensure reliability of supply and optimise costs, distribution companies sign long term contracts with power producers. Surplus requirements are met through short and medium term contracts. Over the years, as India has significantly reduced its energy deficit, a trend of increased share of short term power sale (especially through power exchanges) has been observed[2]. Reduction in power demand (due to economic slowdown and efficiency gains) and, surplus long term power contracts, and more variable renewable energy being integrated into the grid, have all contributed to increased activity in the power exchanges.
Lack of liquidity and products in the short term markets have resulted in increased prices of electricity in the last 3 years, despite supply surplus in the country. The government through its proposed amendment to Electricity Act 2003 (September 2018) and Five Year Vision Document for Power Sector (June 2019), aims to introduce new forwards and futures products to deepen the markets. A major recommendation in the proposed amendments of the Electricity Act is the segregation of the distribution and supply business of electricity. This can potentially mean that that even retail consumers can procure power from the marketplace at the cheapest price.
Who should care
Investors / developers / generators in power sector
DISCOMS and State load dispatch centres
Transmission companies like PGCIL, STU's, etc.
and power sector analysts
References
[1] Large consumers in India may buy power directly from a generator through trading companies/power-exchanges in some of the states or by directly from a generator. This regime is referred to as open access.
[2] As per a CERC report on short term power market, share of short term power sale in the total power sale has increased from 6.1% in FY2009 to 12.2% in FY2019 (till December). Source: www.cercind.gov.in/2018/MMC/AR18.pdf
Disclaimer
CEF Analysis" is a product of the CEEW Centre for Energy Finance, explaining real-time market developments based on publicly available data and engagements with market participants. By their very nature, these pieces are not peer-reviewed. CEEW-CEF and CEEW assume no legal responsibility or financial liability for the omissions, errors, and inaccuracies in the analysis.