How have India's RE Policies Impacted its Solar and Wind Projects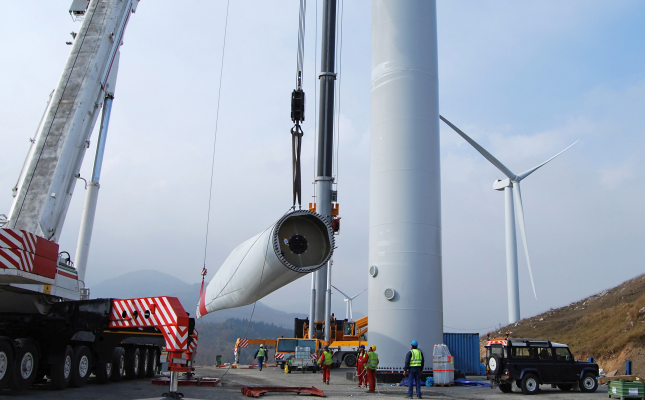 Overview
This analysis looks at how project risks and risk perception for wind and solar have evolved from 2011 to 2020 to understand the impact of policies on the RE sector. It tracks the credit ratings of wind and solar projects and maps them against significant RE policies on a timeline. The study also tracks tariffs and their drivers to uncover their impact on wind and solar projects.
With an installed capacity of over 100 GW in August 2021, the Indian RE sector is already the fourth-largest in the world and supplies to around 10 per cent of the country's total electricity. The five-fold increase in installed RE capacity from 2010 to 2020 can be attributed to supportive RE policies and the rapid reduction in technology costs over the period.The commitment to grow it is evident now more than ever. At the recently concluded COP-26, the country announced a commitment to meet 50 per cent of the electricity requirements from RE by 2030.
Timeline of Indian RE policies vs installed capacity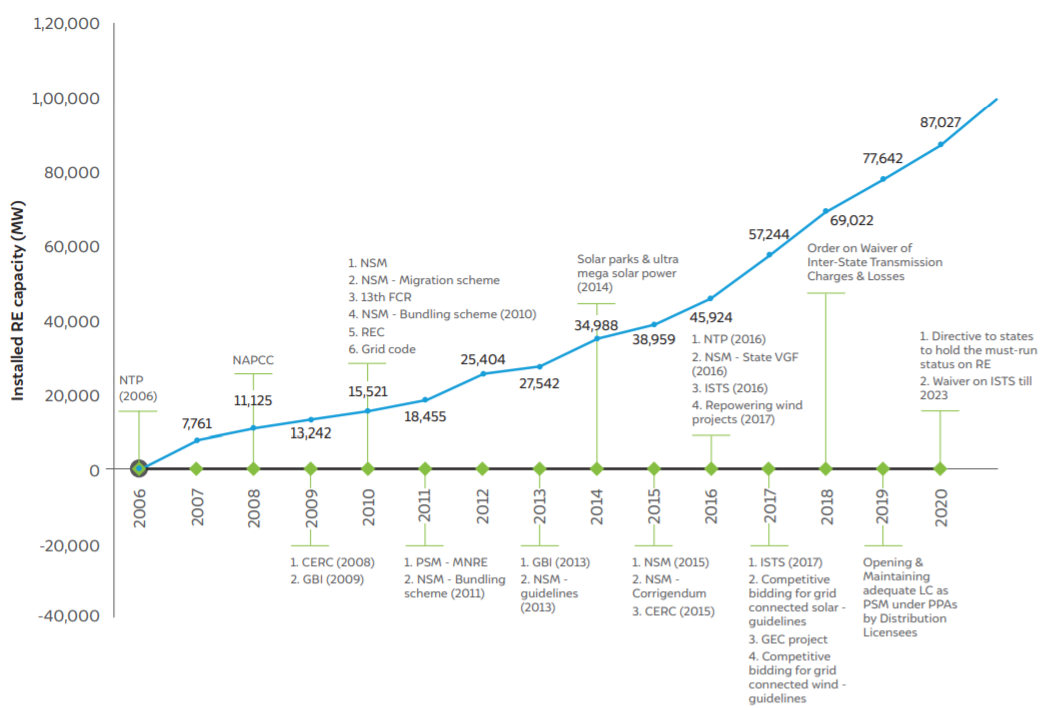 Source: CEEW-CEF analysis
Highlights
Credit ratings
The impact of RE policies on the project ratings of 141 solar projects in 2012–2020 is starkly visible.
All the solar projects tracked in 2012 had a below investment grade rating, but, by 2020, almost 90 per cent had an investment grade rating, with over 60 per cent of the projects being assigned a rating of A and above.
This transition showcases how the sector's risk profile, marked by strong policy support, the availability of track record of performance, improved capital structure and larger investor groups, has transcended to less risky and led to an increase in investment flows.
The credit ratings of solar projects have moved primarily into the investment-grade domain and have a steeper installation growth as compared to wind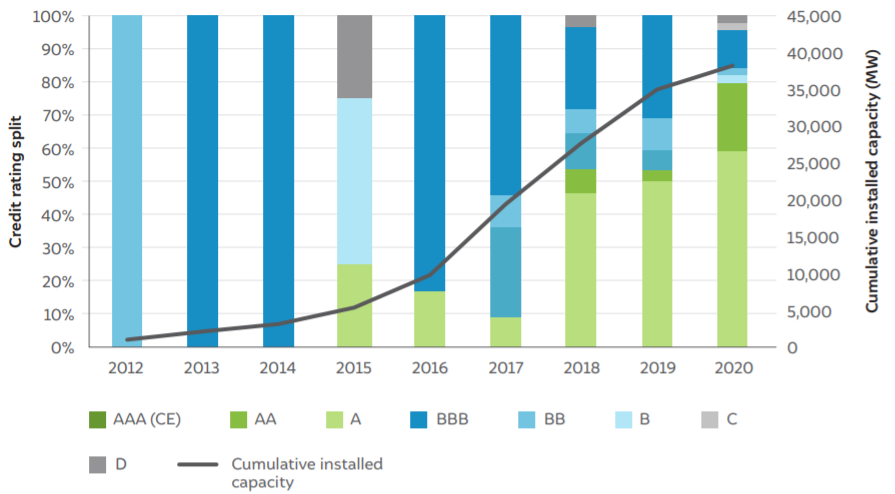 Source: CEEW-CEF analysis
Wind projects showed positive but slightly slower movements.
Even with falling tariffs, ratings for new projects continued to show an upward trend. Most of the rating notes cite low counterparty risks, due to the involvement of intermediaries like the Solar Energy Corporation of India (SECI) and the long tenure of contracts, as the drivers of this improved risk perception.
Of the 101 wind projects tracked since 2010, there was an equal split between projects categorised as investment grade and below investment grade in 2010. This went up to almost 95 per cent of projects being ranked investment grade by 2016, indicating a massive reduction in risk for investors. Further, in 2020, of the 45 projects the study tracked, 33 had a rating of A and above. 
However, despite this improvement in risk perception, it is important to note that from 2017 onwards, deployment of wind projects has been relatively low, indicating a general slowdown in the sector.
The credit ratings of wind projects have moved primarily into the investment-grade domain, but the installation rate has flattened since 2017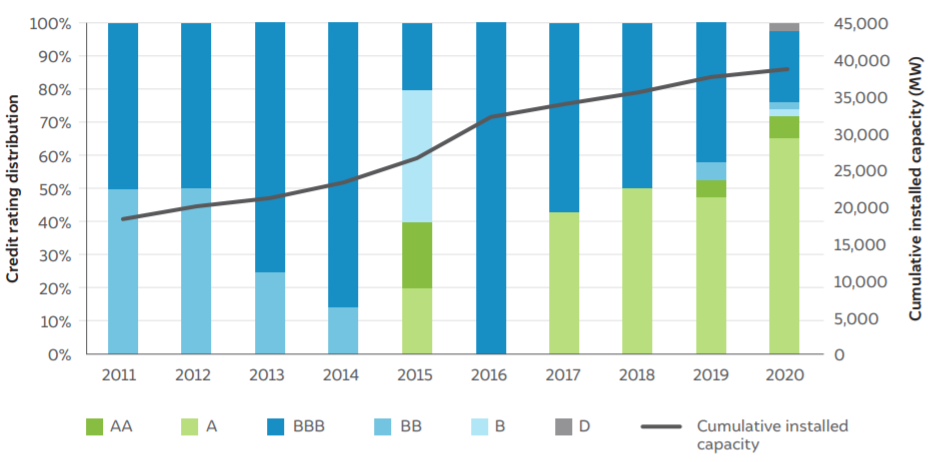 Source: CEEW-CEF analysis
Tariffs 
The Indian solar sector has achieved remarkable progress in reducing tariffs by over 80 per cent — from above INR 10 per unit in 2014 to sub-INR 2 per unit in 2020. A major contributor to this reduction is the decline in investment costs, which led to a reduction in tariffs in 12 of the 13 half-yearly periods between 2014 and 2020. The other significant driver is financing costs, which contributed to a decline in tariffs in 9 of the 13 half-yearly periods.
Reduced financing costs and CAPEX costs have been the primary drivers of reduced solar tariffs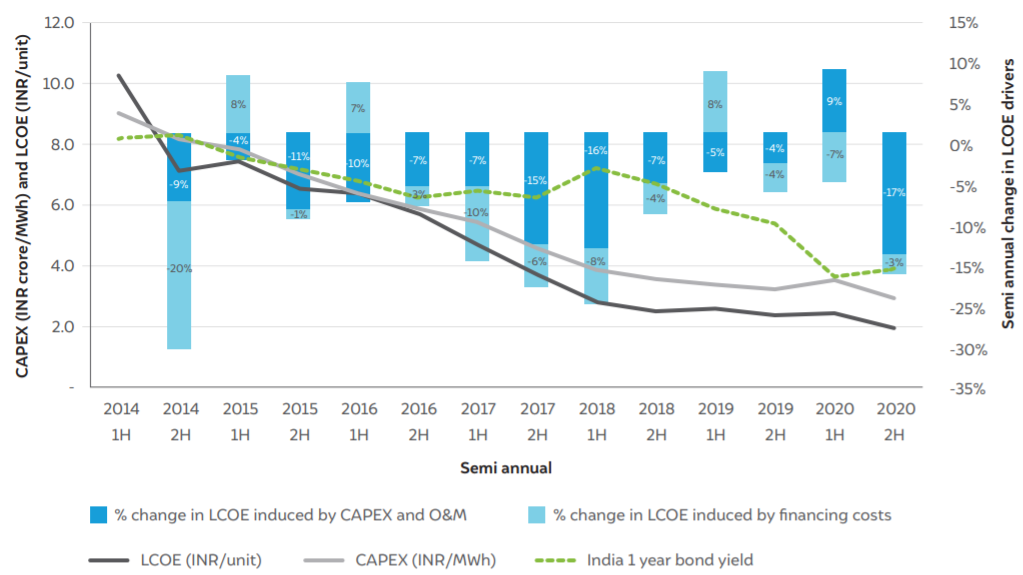 Source: CEEW-CEF analysis
For wind projects, tariffs have declined by almost 60 per cent between the beginning of 2014 and the end of 2020. The decline in tariffs can be attributed to lower financing costs in 9 of the 13 periods tracked.
The reduced costs of financing lowered onshore wind tariffs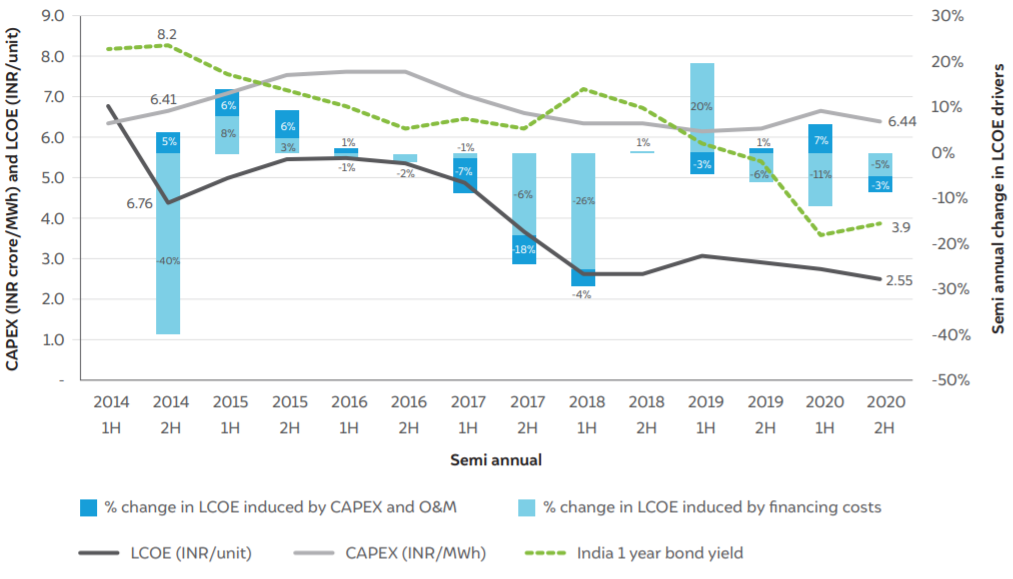 Source: CEEW-CEF analysis