Making India a Leader in Solar Manufacturing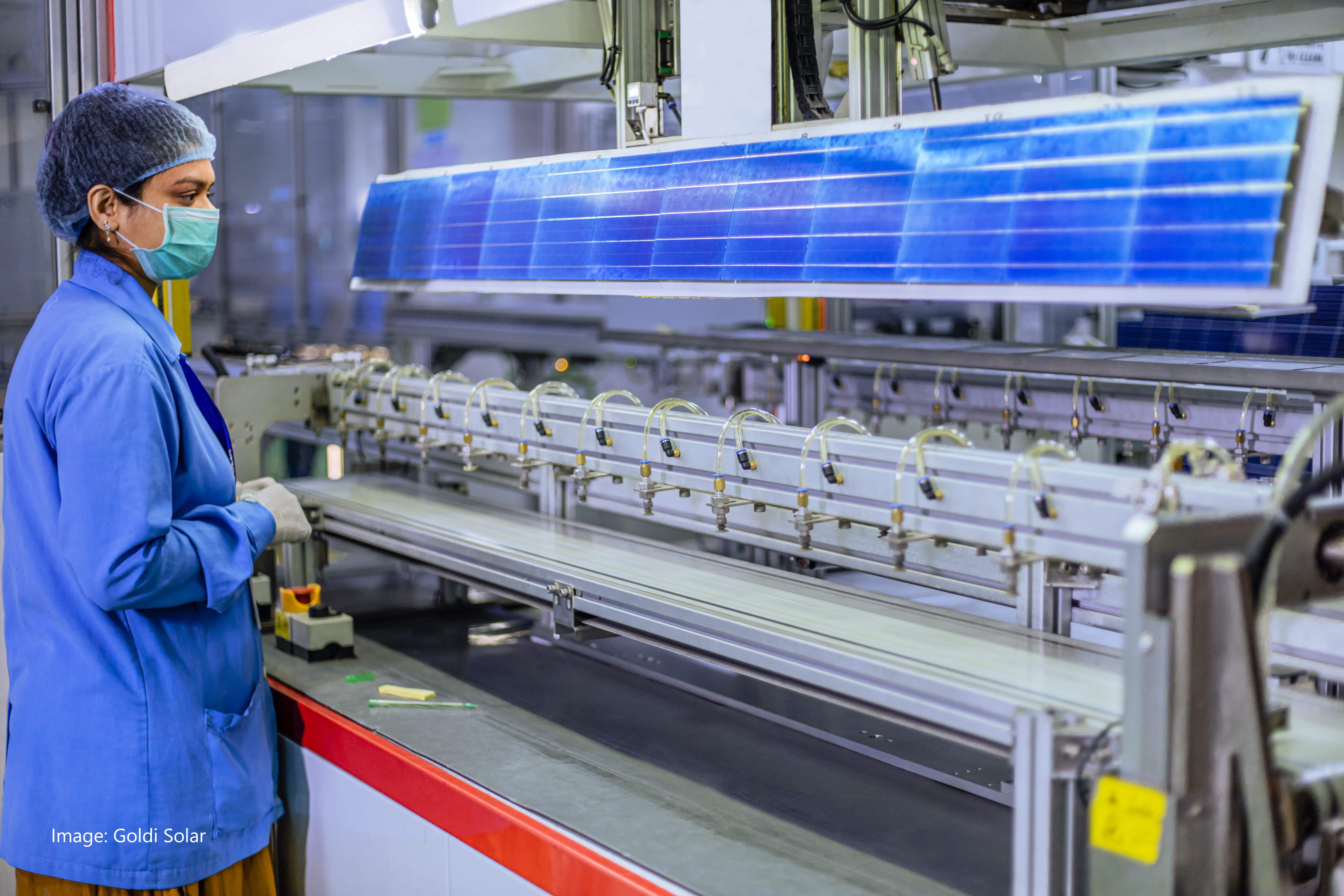 Overview
This report analyses the solar manufacturing landscape in India, specifically through a technology lens. It assesses the current and upcoming technology landscape, requirements of Indian manufacturers, and measures taken by other nations to support their solar manufacturing sectors. The report recommends several measures to ensure the long-term sustainability of India's growing solar manufacturing sector.
In 2021, the Government of India and the Ministry of New and Renewable Energy (MNRE) implemented several measures to support Indian solar manufacturers. These included a basic customs duty (BCD) on imported cells and modules, production-linked incentives (PLI), and enhanced certification requirements (ALMM). While the near-term future is promising, long-term measures are needed to secure technology independence and position Indian solar manufacturers as global leaders.
Key highlights
The crystalline silicon solar manufacturing sector is completely dominated by large-scale Chinese companies. In 2019, these made up 67 per cent of global polysilicon production, 97 per cent wafer production, 79 per cent cell production, and 71 per cent module production. 

On the other hand, India has no polysilicon or wafer manufacturing capacity, and only 2.5 GW cell and 11 GW module manufacturing. 

With the imposition of the BCD, PLI, and ALMM, Indian manufacturers have announced new capacities totalling to at least 16 GW polysilicon, 29 GW wafer, 55 GW cell, and 58 GW module. These plans will require USD 7.2 billion (INR 53,773 crore) in capex and can create over 41,000 jobs.

Chinese manufacturers are doubling down on their dominance. Chinese players announced expansion plans totalling over 340 GW wafer, 170 GW cell, and 160 GW module. 

While Indian manufacturers enjoy strong domestic protections in the near term, they cannot rely on these protections for long-term sustainability and growth. They also face a highly competitive global market.

The technology landscape for solar cells is changing rapidly. The market is dominated by passivated emitter and rear contact (PERC) cells based on p-type silicon wafers. PERC makes up 65-70 per cent of global manufacturing. However, it is expected to gradually yield market share in the second half of the decade to two technologies based on n-type silicon wafers – tunnel oxide passivated contacts (TOPCon) and heterojunction (HJT).
Market analysts expect TOPCon and HJT to make over 50 per cent of global crystalline silicon
Source: ITRPV(2021)
Solar research is severely underfunded in India with only USD 5 million (INR 35 crore) allocated for R&D across all clean energy technologies in the 2022-23 Union Budget. Spending is also distributed between the MNRE and the Department of Science and Technology (DST) with no clear strategy. Typically, funded projects have no industry participation and are limited to academia.
Key recommendations
Set up a long-term solar manufacturing technology roadmap with the MNRE as the implementing authority. The MNRE must be allocated as the nodal Ministry for managing all solar research instead of splitting responsibilities with the DST. The roadmap will require significantly enhanced funding from current levels, a dedicated R&D management division at the MNRE, and an advisory board comprising domestic and foreign industry leaders and academia. The roadmap must provide support across the technology life cycle, from laboratory research to startup fundraising and demand-pull.

Create markets for products with low-carbon manufacturing footprints by pursuing trade deals with nations that have stated a preference for low-carbon products. Simultaneously, state governments must ensure that upcoming manufacturing facilities receive approval for open access renewable power to ensure a low-carbon manufacturing footprint.

Enhance financing for solar projects in developing countries through the India Exim Bank as well as provide exporter credit insurance through the Export Credit Guarantee Corporation. Both steps would secure export markets for Indian manufacturers.

Raise the share of manufacturing loans in IREDA's loan book from 4 per cent currently to 20 per cent through financial year 2026. This will unlock much-needed capital for the capex needs of upcoming plants.

Develop manufacturing hubs to concentrate manufacturers and their suppliers in the same location. State governments should provide deemed approval for open access power, identify suitably sized land parcels with low leasing rates and full transport connectivity, and notify solar manufacturing as a thrust sector in their respective industrial policies.

Provide long-term visibility of the duty structure for solar imports - (i) no BCD imposition on polysilicon and wafer manufacturing before 2026-27 and (ii) continue the current BCD structure for cells and modules till 2025, followed by gradual tapering down to zero import duties by 2030.