India has one of the most ambitious plans for the deployment of solar energy globally – 100 GW by 2022 and significantly more by 2030.1 Unfortunately, much of this early success is driven by imports of the most crucial components of the system – solar cells and modules.We need to admit that we missed the bus to scale up solar module manufacturing in the country. But, can we still catch a flight to self-reliance? To protect the solar photo voltaic (PV) power supply chain, it is important that we reduce our reliance on imports. The Economic Survey of 2019–2020 recommends focussing on value additions through assembly and subsequently moving to the manufacturing of complex components. Supporting domestic solar manufacturing and assembly would serve three key purposes:
1.    Jobs
A recent study estimates that a 3 GW integrated manufacturing plant (polysilicon to solar module) can generate 5,500 jobs.2 Domestic manufacturing plants can currently produce only 2–3 GW of solar cells and 8–9 GW of solar modules annually. However, many companies outside India operate on larger scales with capacities greater than 10 GW. If targeted interventions supported the scaling up of the manufacturing sector, thousands of additional jobs could be generated in India.
2.    Economic growth
In the past five years, India has on an average imported solar cells and modules worth INR 17,600 crores (USD 2.6 billion) annually. Additionally, the country plans to install solar plants with capacity more than 10 GW annually, which would translate to a yearly requirement of solar modules worth INR 15,000 crore (approximately USD 2 billion). Encouraging local manufacturers to assemble or manufacture in India can add to the overall GDP of the country and reduce forex outflow. Figure 1 compares the import value of solar cells and modules (in monetary terms) to that of the annual installed capacity over the past five years.3
Figure 1: Imports (solar cells and modules) vs project installation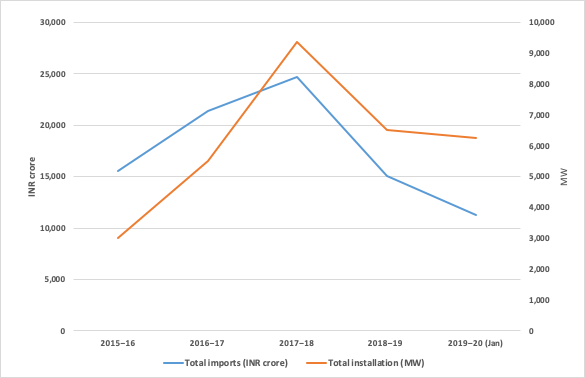 Source: CEEW-CEF analysis from data gathered from the Ministry of Commerce & Industries (2020)
3.    Energy security
In 2017, the Ministry of New and Renewable Energy (MNRE) estimated that among domestic firms, only 1.5 GW out of 3.1 GW of cell manufacturing capacity, and 2–3 GW out of 8.8 GW of module manufacturing capacity, are being utilised due to stiff competition from imports.4 Additionally, Indian developers and manufacturers are highly dependent on China for solar cells and modules. Figure 2 shows the trend in solar cells and modules imported from key countries. While we can see that the implementation of the safeguard duty from August 2018 has reduced imports from China, the share of imports from exempted countries like Thailand and Vietnam has increased.5
Figure 2: Imports of solar cells and modules from key countries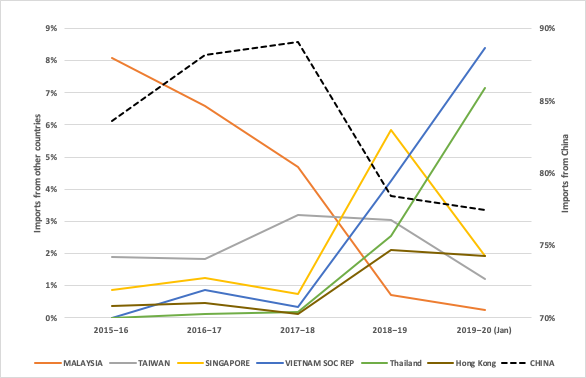 Source: CEEW-CEF analysis from data gathered from the Ministry of Commerce & Industries (2020)
Scaling up domestic manufacturing across the value chain is not impossible. We need to first accept the problem, identify the barriers, and track the best global practices. Secondly, we must break down the final goal into smaller, more achievable, and more pragmatic targets. This article tries to identify the key bottlenecks, draw parallels to previous experiences and learnings, and suggests a way forward.
Solar PV manufacturing in India
Between 2000 and 2010, the Indian solar cell and module manufacturing sector was globally competitive and highly reliant on export orders. Companies like Moser Baer, Indosolar, Tata BP Solar (now Tata Power Solar), Jupiter Solar Power, and Websol Energy Systems, among others, invested significantly in the manufacturing of both solar cells and modules. The 2008 economic recession caused a dip in the global market which led to an oversupply from Chinese companies who were rapidly scaling up with the support of their government. Though the announcement of the National Solar Mission gave the industry some hope of revival following increased domestic demand, the oversupply of modules led to reduced prices in international markets. Local companies were now unable to compete with their Chinese counterparts who had greater expertise and economies of scale. As a relief measure, domestically manufactured solar cells and modules were mandated in a few tenders, through the Domestic Content Requirement (DCR) policy. Responding to the support, many manufacturers scaled up their existing facilities and deferred plans for backward integration, like the manufacture of polysilicon, ingots, wafers, and cells, where the maximum value-add takes place.6 However, in 2016, after a hard battle, the World Trade Organization (WTO), on request from the US, ruled against India's DCR policy. As a result, in the recent past, many of these first movers have shut down their facilities or else are in the process of closing down. Many others are struggling to survive and hope for government support, either in form of assured offtake or financial support.
Impact due to COVID-19 & recommendations
The uncertainty created due to COVID-19 is not just similar to the global financial crisis of 2008 – it is even worse. The International Monetary Fund (IMF) recently suggested that this recession will be the worst since the Great Depression of 1930.7 At a juncture like this, it is pertinent to take immediate action to limit the cascading impact of the recession on already struggling sector such as solar module and cell manufacturing. We recommend five key interventions to not only contain the impact due to COVID-19 but also to ensure a pathway to self-sufficiency.
1.    Tariff barriers
The most powerful tool that the government can employ is a tariff barrier. Chinese factories are currently functioning at optimum capacity while the global demand is slowing down. Such a situation will lead to an oversupply of solar products in the global market and an eventual decline in prices.
A review petition on the current safeguard duty, which lapses in July 2020, is under investigation at the Directorate General of Trade Remedies (DGTR). In its current form, the safeguard duty (implemented between August 2018 to July 2020) has limited to no impact on domestic manufacturing. Developers leveraged the Change in Law clause in their contracts and claimed compensation. This ensured a continuous flow of modules from China, Vietnam, and Thailand.8
Similarly, manufacturers focussed on increasing the utilisation of existing facilities and see two years as an insufficient time to set up new factories or expand existing ones. To encourage both local and foreign manufacturers to set up facilities in India, any tariff barrier must be implemented for a longer period of at least five years.
The Ministry of Commerce and Industry, along with the Ministry of Finance, need to take appropriate measures to check imports from currently exempted countries like Vietnam and Thailand, which have exceeded the three per cent exemption criteria under the safeguard duty rule. Incidentally, the Finance Bill, 2020, has amended Section 8B of the Customs Tariff Act of 1975, to allow the government to implement a tariff-rate quota (TRQ) to check increased imports.9 Such an intervention will not only restrict dumping but ensure twin objectives at the same time - deployment at attractive tariffs and scaling up of domestic manufacturing. At present, the TRQ should only be implemented on solar modules and cells, and the government can expand its scope in a phased manner to other parts of the value chain, like wafer, ingot and polysilicon manufacturing in line with the "Assemble in India" vision proposed in the Economic Survey of 2019-2020. The DGTR can recommend a staggered TRQ for five years. The domestic industry must use this time to improve its R&D capabilities and expertise across the value chain. In the future however, the government must support only those companies that have invested in building internal technical capabilities.
2.    Production subsidy
The manufacturing sector needs to be shielded from the onslaught of imports. This will prevent job losses and the subsequent impact on the MSME sector. The government can support domestic solar cell and module manufacturers – provided they meet necessary quality criteria – for at least one year by providing financial support in the form of production subsidies, say INR 1–2 per watt, to solar module and cell manufacturing firms. They could direct the safeguard duty collected so far towards this. Our analysis suggests that, to date, the Ministry of Finance has collected safeguard duties on cells and modules in the range of INR 4,500–5,000 crores. With a subsidy of INR 2/watt to domestic manufacturers, the country can support 25 GW of domestic cell and module production, which is a manifold increase of the current manufacturing capacity. Such financial support will not only ensure correct usage of the collected duty but also reduce the additional burden on the exchequer and avoid job losses across the country.
The government could give higher-value subsidies to those companies involved in the manufacturing of high-efficiency cells and modules. This recommendation is also in line with the Modified Special Incentive Package Scheme (M-SIPS), which had provisions to support ingot, wafer, and cell manufacturing by providing a 10 per cent production subsidy on the production turnover.10 However, despite provisions and in-principle approvals, manufacturers were not able to access this financial support under M-SIPS.
3.    Accelerating the pace of existing interventions
In the recent past, the government has tried to support domestic manufacturing by assuring offtake. It must accelerate the pace of such interventions and prioritise the bids under the 12 GW Central Public Sector Undertaking (CPSU) Scheme and the Kisan Urja Suraksha Evam Utthaan Mahabhiyan (KUSUM) scheme. Recently, two developers (Azure Power and Adani Green Energy) won a bid to set up a 12-GW project and an additional 3 GW of solar cell and module manufacturing capacity. There must be no further delays in the signing of a power purchase agreement (PPA) with them.11
 4.    Indigenisation across the value chain
For the last ten years, manufacturers have focussed on scaling module manufacturing capabilities, deferring investments in the manufacturing of cells, wafers, ingots, and polysilicon. While the manufacturing of solar modules is well understood, it has the least local value addition with high dependence on imported raw materials. We require a strategic plan to increase the market share of domestic products to greater than 50 per cent. In the short term, the country can focus on setting up an additional 10 GW of manufacturing capacity for ingots, wafers, cells, and modules. Recent studies have suggested that producing high-quality polysilicon is challenging, and only a handful of companies in South Korea, the US, Germany, and Japan have been able to do it commercially. Given that China is a net importer of polysilicon, our short-term priority should be to indigenise those parts of the value chain that bear significant supply-chain risks – such as ingot, wafer, cell, and module manufacturing.12 The government can support such factories by providing land and electricity at low prices along with capital or production subsidies. It must give preference to companies focussing on high-efficiency products. In addition, the import of any machinery for the manufacture of these products should be exempted from customs duty, ensuring competitiveness in the global market.
 5.    Commitment is key
Companies (and banks) will only invest in domestic solar manufacturing if it is made a priority for the government. Until now, many have delayed additional investments in backward integration. The government's failure to meet earlier commitments under SIPS and M-SIPS and delays in tenders requiring domestic modules have created mistrust between the government and manufacturers. Additionally, MNRE must also revive the 2017 draft policy to support domestic manufacturing, which will ensure continued support to scale up the sector.
Conclusion
With massive supply-chain disruptions, concerns around import dependence have been shared widely, and many countries are aiming to reduce their reliance on imports. Australia, France, Japan, and USA are urging their businesses to diversify their supply chains.13 India too is rethinking its priorities and could take steps to reduce its share of imports, especially from China. One of the first steps for the government would be to identify solar manufacturing as a strategic industry and present a five-year intervention plan. Any delay can have a significant impact on manufacturers and could lead to a reduction of operational capacities. This could put thousands of existing jobs at risk and create non-performing assets (NPAs).
In a welcome step, the MNRE has responded in time, providing much-needed relief to manufacturers by extending the implementation timelines for the Approved List of Models and Manufacturers (ALMM).14 In addition, the MNRE has initiated dialogue with states to set up RE equipment manufacturing parks to meet both domestic and global demand. These manufacturing parks are expected to focus on the manufacturing of key equipment (ingots, wafers, cells, and modules) and ancillary products (backsheets, glass, batteries, inverters, and module-mounting structures).15 This step is also in line with the vision of the Economic Survey 2019–20, which estimates that India can increase its export share by 3.5 and 6 per cent by 2025 and 2030 respectively, potentially creating 4 crore jobs by 2025 and 8 crore jobs by 2030.16 The solar manufacturing industry can play a key role in ensuring that the above mission is successful.
Having grown from a solar cell and module manufacturing capacity of 6.5 MW and 9.5 MW in 2000, the Indian manufacturing sector has come a long way to the existing manufacturing capacity of approximately 3 GW and 9 GW, respectively.17 With smaller-scale operations, it was relatively easy for manufacturers to absorb shocks like the 2008 financial crisis, the WTO order on DCR, and the oversupply of products. The current situation, however, is different, and a lot is at stake now. Additional interventions need to not only support but also ensure the scaling up of the domestic manufacturing sector, reducing our reliance on imports. The silver lining here is the development of new technologies. Going forward, the government must have a twin focus: support domestic manufacturing and increase R&D in existing as well as new technologies like organic solar cells. In the post-COVID era, every stakeholder – the government, manufacturers, banks, and project developers – will have a crucial and active role to play in ensuring India's self-sufficiency.
References
[1] The government aims to deploy 450 GW of RE by 2030. It is expected that major focus will be on solar power.
[2] ICC, ICF, Surya to Boost Solar Manufacturing in India (Delhi: Indian Chamber of Commerce, 2017), https://shaktifoundation.in/wp-content/uploads/2018/01/Solar-Manufacturing_Report.pdf.
[3] Until recently, imports of both solar cells and modules were recorded under the same HS code (85414011), making it difficult to distinguish between cells and modules. Also, import and export data is only recorded in monetary and quantity terms (pieces), making it very nearly impossible to estimate the value in MW.
[4] MNRE, Concept Note on Solar PV Manufacturing Scheme (New Delhi: MNRE, 2017).
[5] Many factories in Vietnam and Thailand are owned by Chinese manufacturers or are highly dependent on China for solar cells. This often defeats the purpose of having a safeguard duty.
[6] Ganesan, Karthik, Poulami Choudhury, Rajeev Palakshappa, Rishabh Jain, and Sanyukta Raje, "Assessing Green Industrial Policy The India experience," 2014, CEEW-IISD, https://www.iisd.org/gsi/sites/default/files/rens_gip_india.pdf.
[7] Gopinath, Gita, "The Great Lockdown: Worst Economic Downturn Since the Great Depression," IMF, 2020, https://blogs.imf.org/2020/04/14/the-great-lockdown-worst-economic-downturn-since-the-great-depression/
[8] Dutt, Arjun, Manu Aggarwal, and Kanika Chawla. 2019. What is the Safeguard Duty Safeguarding? Analysing Impact on Solar Manufacturing and Deployment in India. New Delhi: Council on Energy, Environment and Water.
[9] Through this amendment, the government can collect nil or low duties for a specified quantity of imports; any import beyond this will attract higher tariffs. The law mandates that the quota for lower/nil tariffs cannot be less than average imports for the last three years.
[10] MEITY, "Guidelines for MSIPS Scheme," MEITY, February 26, 2016, https://meity.gov.in/writereaddata/files/MSIPS%20Guidelines.pdf.
[11] "Adani, Azure top bidders for manufacturing-linked solar tender," Economic Times, January 17, 2020,https://energy.economictimes.indiatimes.com/news/renewable/adani-azure-top-bidders-for-manufacturing-linked-solar-tender/73326210.
[12] TERI, "Policy Paper on Solar PV Manufacturing in India: Silicon Ingot & Wafer - PV Cell - PV Module" (New Delhi: TERI, 2019).
[13] Irwin, Neil, "It's the End of the World Economy as We Know It," New York Times, April 16, 2020,https://www.nytimes.com/2020/04/16/upshot/world-economy-restructuring-coronavirus.html?action=click&module=Top%20Stories&pgtype=Homepage.
[14] The ALMM or Approved list of Models and Manufacturers is a list of empanelled models and manufacturers of solar cells and solar modules that compile with BIS standards. The deadline has been extended from 31st March 2020 to 30th September 2020.
[15] PIB, "MNRE gives major push towards setting up RE Equipment Manufacturing Parks in India," April 18, 2020, accessed April 22, 2020. https://pib.gov.in/newsite/PrintRelease.aspx?relid=202352.
[16] GoI, "Economic Survey - Chapter 5," India Budget, January 2020, https://www.indiabudget.gov.in/economicsurvey/doc/vol1chapter/echap05_vol1.pdf.
[17] Ganesan, Karthik, Poulami Choudhury, Rajeev Palakshappa, Rishabh Jain, and Sanyukta Raje, "Assessing Green Industrial Policy The India experience," CEEW-IISD, 2014, https://www.iisd.org/gsi/sites/default/files/rens_gip_india.pdf.