Overview
India's electric vehicle market has seen remarkable growth, with sales surpassing pre-pandemic levels while traditional internal combustion engine vehicle sales are slow to recover. From comprising just 1% of new auto sales in January 2021, EVs now make up 6% as of September 2022, with more electric vehicles sold in the first half of FY 2022-23 than in the entire previous year. This growth can be attributed to policies, categories, and subnational factors as the key drivers.
The consumer EV segment in India is supported by multiple policies at both the national and state level. The 'Faster Adoption and Manufacturing of Electric Vehicles (FAME) - II' policy, which is set to end in FY 2023-24, has achieved some of its targets, such as incentivizing most e-2W and commercial 4W sales in the country, but has left plenty of headroom in terms of monetary incentives and the number of EV units targeted.
Figure 1 Electric vehicles witnessed rapid post-pandemic recovery in sales growth and market penetration.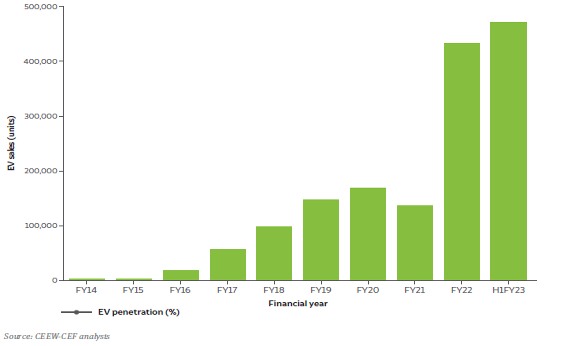 Source - CEEW-CEF compilation
Policies, including the national 'Faster Adoption and Manufacturing of Electric Vehicles (FAME) – II' policy and state-level policies with purchase incentives for consumers, have been effective in incentivizing EV sales, with states EV policies and incentives seeing their market volume grow 2X.
14 out of 21 states with EV policies provide purchase incentives, bringing down the on-road cost of EVs and helping attain price parity with traditional vehicles. E-2Ws and e-rickshaws jointly lead the EV segment in India, with nearly 300,000 e-2Ws and 170,000 e-rickshaws sold in the first six months of FY 2022-23. In FY 2021–22 and the first half of FY 2022–23, 164,338 units were sold in Uttar Pradesh (UP), making it the state with the sales of electric vehicles in the nation.
States with policies and consumer incentives for EV buyers are experiencing superior EV volume growth compared to states without such policies. Larger incentives, up to INR 10,000/ kWh, have translated into more visible market growth, with states such as Assam, Goa, and Gujarat registering near 20X growth, while states with lower incentive amounts have seen their markets grow by only 4.5X.
The EV market in India is primarily led by e-2Ws and e-rickshaws, with the highest ever recorded sales of nearly 300,000 e-2Ws and ~170,000 e-rickshaws sold in the first six months of FY 2022-23 alone.
The state of Uttar Pradesh has the highest number of electric vehicle sales in India with an EV penetration of nearly 4%, while Delhi has the highest EV penetration of around 8%. Pune has the highest absolute sales of EVs in RTOs, but Delhi's Burari taxi unit is the greenest RTO in India with an EV penetration of around 46%.
Policy and Impact
Figure 2Category-wise share of EV sales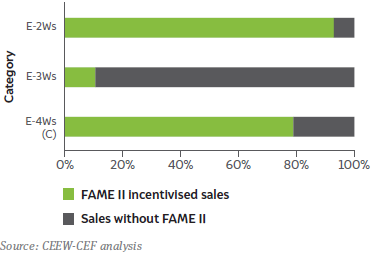 Source - CEEW-CEF compilation
The implementation of EV policies has been instrumental in the growth of India's EV sector, as evidenced by the consistent outperformance of states with consumer incentives. States with policies show sales ~14X of their FY 2017-18 volumes, while states without incentives showed a smaller market growth of ~6X, much lesser than the national growth of ~9X.
Higher incentives of up to INR 10,000/kWh have resulted in more than a ~20X growth in sales volumes in states such as Assam, Goa, and Gujarat, while Delhi and Maharashtra with incentives up to INR 5,000/kWh have seen only a 4.5X growth in their markets.
While EV policies have an impact on sales, existing EV policies in India have flaws. Only 12% of all e-3Ws have availed of subsidies despite the majority of the 133 models incentivized by FAME II being e-3Ws.This suggests that more popular models are being excluded from incentives, and domestic manufacturing limits play a role in determining which models receive policy subsidies. The policies need to be reviewed and improved to encourage the adoption of e-3Ws and other EVs in India.
Conclusion
The growth of India's EV sector depends on policies that provide direction and incentives. National policies should include an official EV transition target and consider reallocating subsidies towards higher incentives for e-3Ws. FAME II should also consider incentivising heavier vehicles. State policies should introduce subsidies for EV buyers, carefully consider incentive amounts, and incentivise categories more suited for electrification. Kick-starter incentives and exemptions of road taxes can also help generate demand and bring price parity to vehicles. Overall, the individual narratives of each category and subnational trend must be considered for the success of India's EV sector.